Black Legacy Chapter Five @ 02:32 pm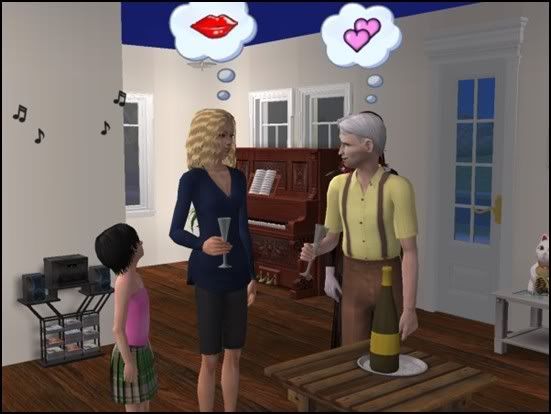 Now that Thomas is an elder, he and Arcadia have a Golden Anniversary part
Thomas' friend Addy Taylor comes by.
And so does Adrien. He dances a little with one of his little sisters, building a nice bond.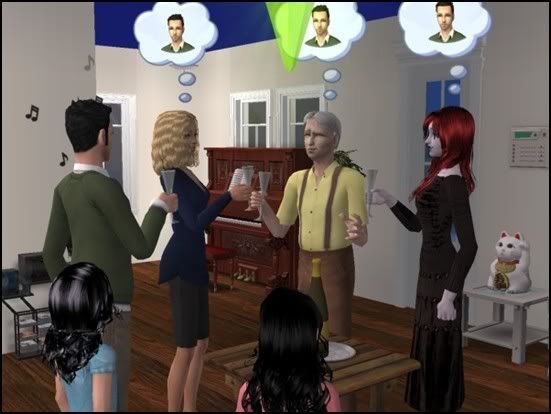 Thomas makes a toast to Adrien, fruit of his loins.
Heh. Loins.
Family conversations are always nice. Poor Thomas is surrounded by females now that his son is out of the house and married with his own child, a little girl named Bridget.
But guess what!
It's birthday time!! Tarrah is more than ready to be a teenager and
get out of this house
go to college.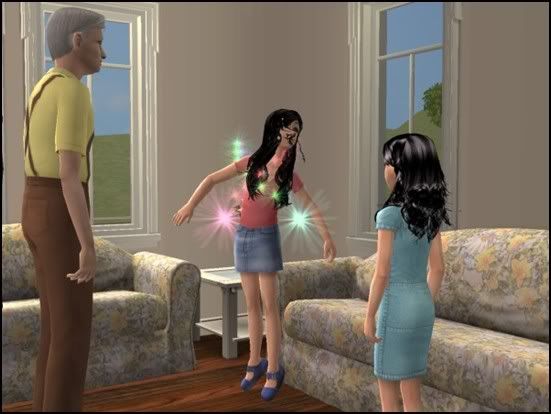 The age spin!
She is so hot she just has to touch herself. Like that song, you know?
But a makeover is good for everyone.
This is what she looks like. Very nice, Tarrah. Very nice indeed. Tarrah has my favorite aspiration of Knowledge and wants to maximize 7 skills.
Tiffany is so jealous that she just age transitions without any sort of prompting.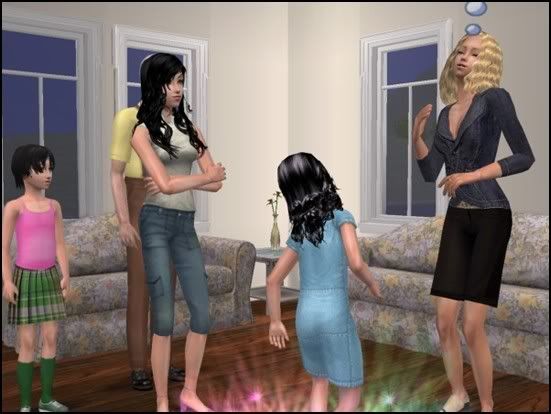 Age spin!
Tiffany does not feel the urge to touch herself, however, she does stare at her hands.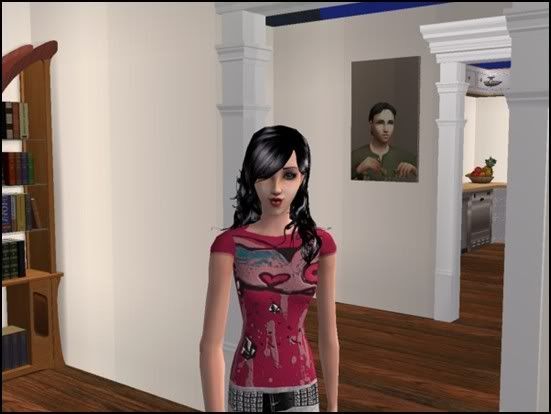 Our little Tiffany is quite the little heartthrob, which is good, because she's a Romance sim, with the burning desire to be
useless
a professional party guest.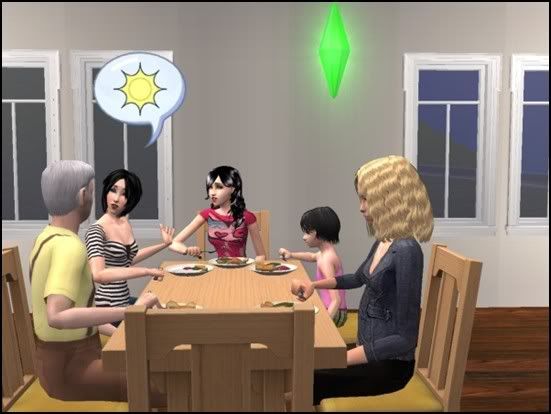 The family eats dinner together as often as possible. They, too, are excited about the Seasons expansion pack.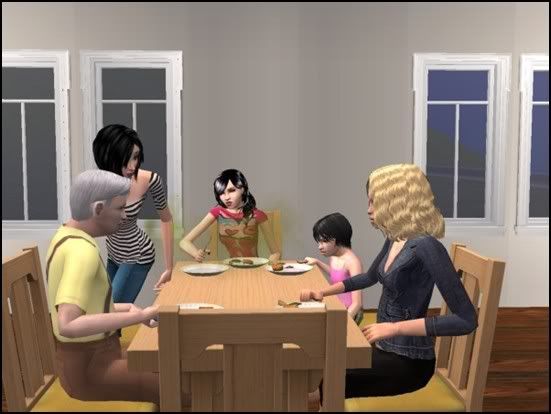 Tarrah has all the grace of a skunk. Either that or it was chili night.
The family moves into a new house so that everyone can have their own room. Mommy and Daddy still sleep together, though.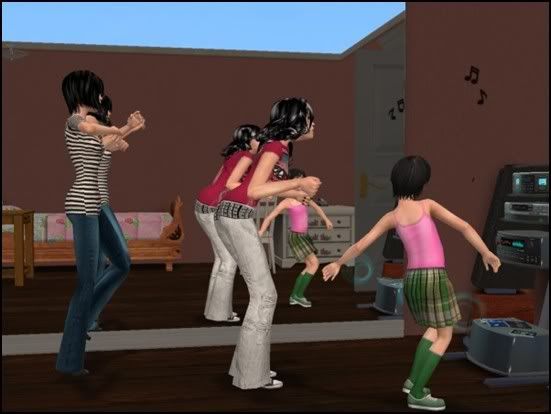 The girls love to dance together.
Arcadia is pregnant again.
The twins soon decide to head out to college to fulfill their father's wildest dreams (of graduating 3 kids from college). Also, the house was getting crowded.
Tarrah has weird lips. But she's my favorite and has not only a better lifetime want but also better stats than Tiffany.
Tiffany is gorgeous. And stupid. She likes to have a bunch of people over and hit on them all at the same time, causing massive jealousy. Her face hurts a lot.
They look very, very different. Which is good. If you haven't figured it out yet, Tarrah is the heir.
Sometime during their college years, Arcadia goes into labor.
Thomas gallantly stares on while she's in pain.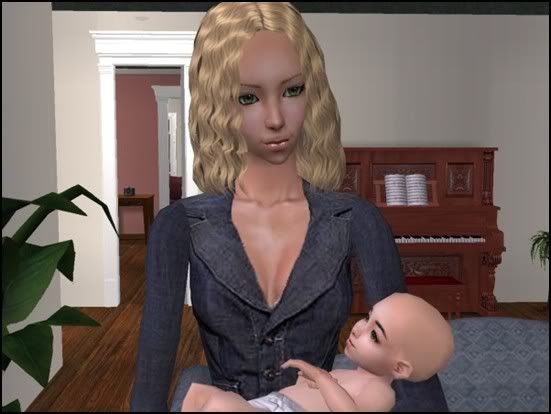 Baby Tanis is born quickly, becoming the 5th child.
And then some kind of freak accident occurred. Accidentally.
Kara died. She was just standing around one day and keeled over.
But Tanis is quickly a toddler, a mean, vicious copy of a toddler, just like Tiffany and Kara.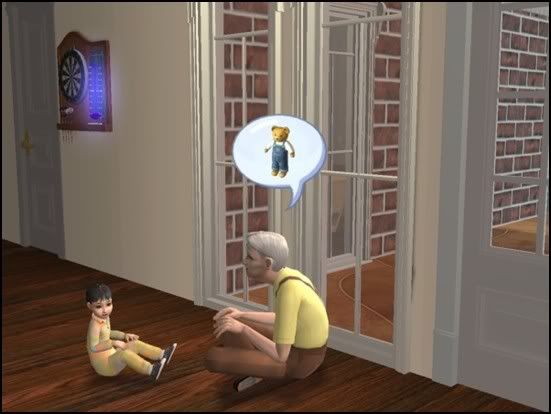 Soon she can talk.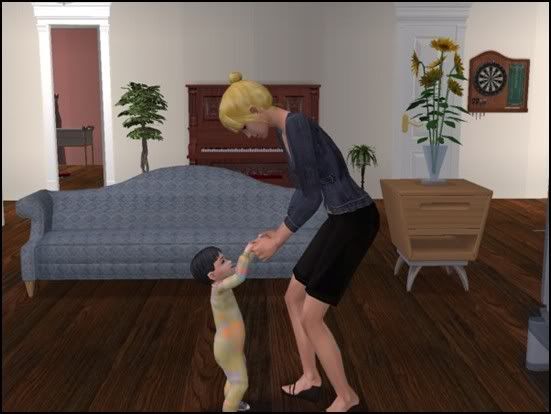 And walk.
The years have gone by quickly for the twins, and Tarrah is soon back at home, reading about mechanics and hoping for a promotion. And a husband.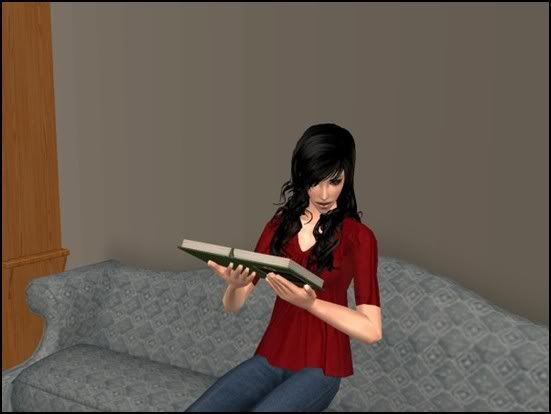 She's the eldest child now.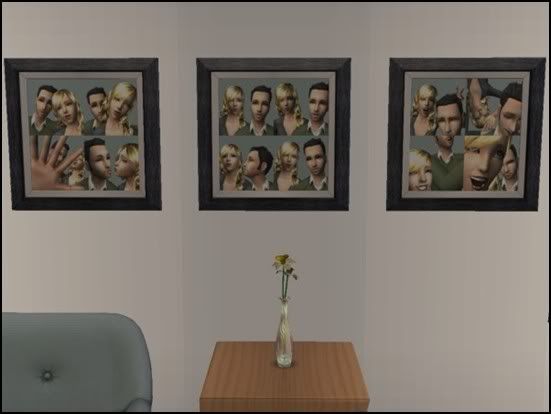 In a freak accident pertinent only to another Sim family, Adrien and his wife and his daughter burned to death in a tragic fire. Tiffany got caught in the blaze too
because she was too stupid to leave the room and kept screaming about a fire
. I had plans for her, and will miss her.
So, with only Tarrah and Tanis left as children, Thomas and Arcadia Black would've gone into aspirational failure if it hadn't been for the fact that they've both achieved their lifetime goals.
Next Chapter, another death, a wedding, and a birth.